HRH Employee of the Month (May 2021)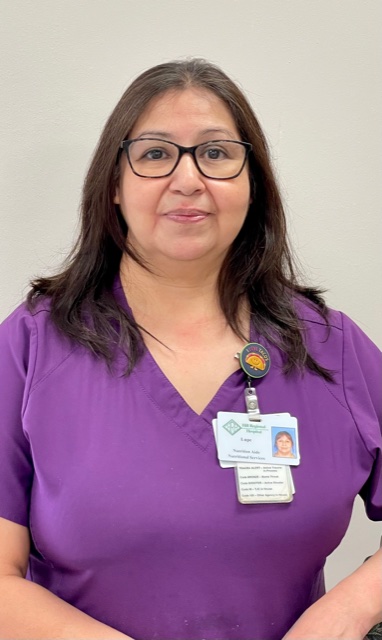 Congratulations to Lupé Martinez
Hill Regional Hospital is pleased to announce that Lupé Martinez of Hillsboro is our May Employee of the Month. Lupé is a 20-year employee as a cook in dietary services at the hospital.
Lupé says she has always enjoyed cooking. Her favorite part of her job is talking to the patients to find out their likes and dislikes. "Part of their healing process is to eat well, which helps them get stronger," says Lupé. "If the patients don't like the food they won't eat it!" Lupé works with each patient to find just the right substitution if needed.
Lupé understands that some people are picky eaters. When asked what was the one food she wouldn't eat, she said, "Fish! I don't like fish." What she does like, and is the most requested item she cooks, is pot roast. When Lupé is cooking pot roast, it's a treat for patients and hospital staff.
Debbie Lewis, Nutrition and Dietary Services Supervisor, says, "Lupé is so deserving of this honor. Her dedication to making the patients eat well and feel well is evident in her everyday attention to detail. She is respected by the people with whom she works." And, adds Debbie, "The pot roast is really good!"
Lupé enjoys her free time, spending it with grandchildren at the park especially, shopping a little, and taking time to enjoy her home. After 20 years at Hill Regional, it seems a little like home here, too.
Congratulations to Lupé Martinez, May Employee of the Month.
---
If you have questions, please contact at 254-580-8765.
---